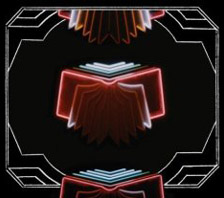 The new Arcade Fire offering,
Neon Bible
, is hefty and full of momentum. You will like to listen to it. Our favorite tracks so far are "No Cars Go", the first song, the last song, and track four with the simple soaring melody and the xylophones, or are those vibraphones?, punctuating each turn with a regal salute to rock and the inevitability of sorrow and movement. Lords over the hype, makes you want to dance, or nod your head whatever you're doing.
This band has so much talent and energy, is it any wonder they're led by a singer named "Win"?