Betty just finished watching
Giuliani Time
, which is not a particularly great movie. But given that Rudy is the Republican presidential front runner, perhaps you should see it!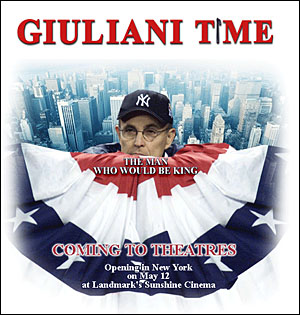 The film raised a few issues that Betty wasn't aware of before. Here she will summarize them for you:
* New York's famous crime drop under Giuliani actually began during the final three years of the Dinkins mayoralty.
* The drop also coincided with drops in crime in cities all over the United States during the same period.
*Ditto for the city's economic boom under Giuliani.
* Giuliani is politically smart to take credit for both the crime drop and the economic boom, of course.
* The "broken windows theory" - which claims that aesthetic order is causally related to civic order - was explicitly the driving ideology behind both Guiliani terms.
* This theory was handed to Giuliani by the Manhattan Institute, a conservative think tank funded by trustees of Philip Morris USA and Fortune Magazine, among others.
* Giuliani did away with the city's approximately 75 "squeegee guys", by making it a crime to wash peoples' car windows and solicit small tips for the service.
* Both times he was elected mayor, Giuliani garnered under 30% of the vote. [And he's leading the GOP Presidential pack with 29% now.]
* When he was elected for a second term, it was with under 20% of the African-American vote, the lowest percentage that a modern mayor has ever earned in New York City's history.
* By the end of his second term, the city's homelessness rate had increased to its highest numbers since 1989. They just weren't in midtown anymore.
* Thousands of pieces of art were lost in Giuliani's police crackdown on street artists in the city, a practice that was later found by the Supreme Court to be illegal and in violation of the artists' First Amendment rights.
* The "cleaning up" of Times Square was easily achieved by offering property with massive tax breaks attached to huge corporations like Disney.